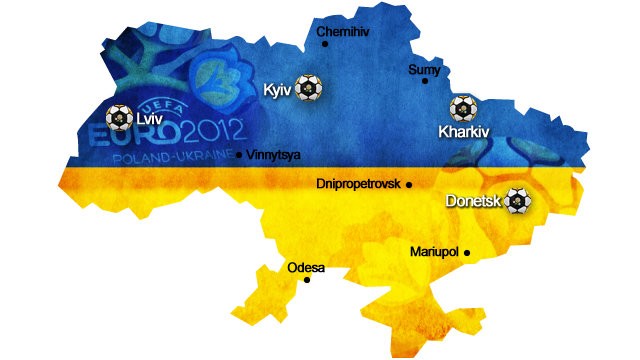 The mood in Ukraine is "like a volcano ready to explode," says a local civil society activist. And that's not due to anticipation of this month's European football championship.
The optimism fostered by the democratic breakthrough of the Orange Revolution has given way to bitter disillusion, observers suggest.
"It's been a real disappointment," said Andrew Wilson, a Ukraine scholar. "There were genuine hopes after the revolution for a political breakthrough. A lot of political capital was squandered."
Ukraine may not be a "dictatorship," as German Chancellor Angela Merkel recently suggested, but it has veered away from the European mainstream under President Viktor Yanukovych.
"Two years into his presidency, Yanukovych's professed foreign policy of balancing Ukraine's relations with the West and Russia appears to lie in shambles," writes the Brookings Institution's Steven Pifer.
"Over the past two years, the president repeatedly stated that his priority foreign policy objective was to bring Ukraine closer to, and eventually into, the European Union. But democratic regression and selective prosecution of opposition leaders, such as Yuliya Tymoshenko, have stymied Kyiv's efforts to improve its ties with Europe and pose an obstacle to Ukraine's relations with the United States," he notes.
"Yanukovych miscalculated. He assumed that he could pursue political repression at home and nonetheless enjoy good relations with the West."
But the country's political malaise predates Yanukovych's rise, says a leading observer.
"Ukraine's record over the past 20 years demonstrates that it is not enough to abolish socialism," writes Leszek Balcerowicz, a former deputy prime minister and finance minister of Poland. "The real challenge is to build free-market, rule-based capitalism. And, to do that, an energetic civil society must demand an end to crony capitalism."
It is the failure to consolidate rule of law and build effective political institutions that have left Ukraine's economy "lagging far behind those of its neighbours," the Financial Times reports.
"Its nominal gross domestic product per capita last year, at $3,621, was little over a quarter of EU member Poland's $13,540, or Russia's $12,993, according to the International Monetary Fund," it notes.
Whereas recent research confirms that "inclusive" political institutions generate growth and wealth, "political analysts view Ukraine as a variant on Russia and former Soviet states where a presidential clan uses state power for its own benefit," the FT reports:
In written responses to questions from the Financial Times, Mr Yanukovich said his family's property had been publicly declared and all senior appointments were based on merit. "Recent staff rotations were simply intended to accelerate the modernisation of the state," he said. "For me, for appointments to vacant positions the key requirements are hard work, full dedication and support of my course of modernisation. What people choose to call this management style is beyond me."
Yanukovych's political miscalculations may partly result "from an inflated sense of Ukraine's geopolitical weight," says Pifer:
Many in the Ukrainian elite appear to hold the view that Ukraine's geopolitical importance to Europe and the United States is so crucial—that Ukraine matters so much in a geopolitical tug-of-war between the West and Russia—that the West would ignore democracy problems and embrace Ukraine, for fear that Kyiv otherwise would fall into Moscow's orbit. …
The West bears some blame for fueling this sense of geopolitical importance. Most recently, the NATO summit declaration in Chicago, before criticizing domestic problems within Ukraine, stated that "an independent, sovereign and stable Ukraine, firmly committed to democracy and the rule of law, is key to Euro-Atlantic security." So one can understand why there is the belief in Kyiv in Ukraine's central geopolitical importance.
"Ukraine is sliding back in terms of democracy, media freedom, corruption, and rule of law," said Nadia Diuk, a vice president of the National Endowment for Democracy, the Washington-based democracy assistance group.
On the plus side, Ukrainian civil society remains vibrant and politically engaged, she told a recent Brookings seminar, citing activists' success in securing a new law on non-governmental organizations.
Forthcoming elections "could now be pivotal" to arresting and possibly reversing Ukraine's democratic regression, say the FT's Neil Buckley and Roman Olearchyk:
Several of Ukraine's fractious opposition parties have agreed to field joint candidates to confront Mr Yanukovich's party. Civil society groups are preparing to combat vote-rigging. While Ukrainians have not poured into the streets to protest over the democratic retreat, opinion polls suggest more people are ready to do so.
Oleh Rybachuk, a civic activist and former chief of staff to Mr Yushchenko, says the mood is "like a volcano ready to explode". October will show whether his words are prescient or wishful thinking.
In the past twenty years, the countries that used to comprise the former Soviet Union have taken on new political and cultural identities as they consolidated their independence. Apart from the Baltic states, none has yet achieved a stable democratic system despite revolutions, youth-led protest movements, and other forms of political upheaval. Will the "first free generation" of youth be at the forefront of positive political changes and reforms?
In her latest book, Nadia Diuk illustrates how young leaders have risen up to challenge or become coopted by the old guard and assesses youth-led protest movements and their impact on political developments. 
The International Forum for Democratic Studies at the National Endowment for Democracyinvites you to a panel discussion to celebrate the publication of The Next Generation in Russia, Ukraine, and Azerbaijan: Youth, Politics, Identity, and Culture, published in April 2012 by Rowman & Littlefield, featuring author Nadia Diuk, National Endowment for Democracy, with comments by Sharon Wolchik, George Washington University, and moderated by Marc F. Plattner, International Forum for Democratic Studies.
Monday, June 18, 2012
12:00–2:00 p.m.
(lunch will be served from 12–12:30 p.m.)
National Endowment for Democracy
1025 F Street NW, Suite 800, Washington, DC 20004
RSVP (acceptances only) with name and affiliation by Thursday, June 14. 
Nadia Diuk is vice president for the National Endowment for Democracy's programs in Europe and Eurasia, Africa, and Latin America and the Caribbean. For more than twenty years prior to her appointment as vice president, she supervised NED programs in Eastern Europe and the post-Soviet states. Prior to her appointment at NED, she taught Soviet Politics and Russian History at Oxford University; was a research associate at the Society for Central Asian Studies, United Kingdom; and editor-in-chief of the London-based publication Soviet Nationality Survey. Sharon Wolchik is professor of political science and international affairs at The George Washington University's Elliott School of International Affairs. Her most recent book, coauthored with Valerie Bunce, is Defeating Authoritarian Leaders in Postcommunist Countries.