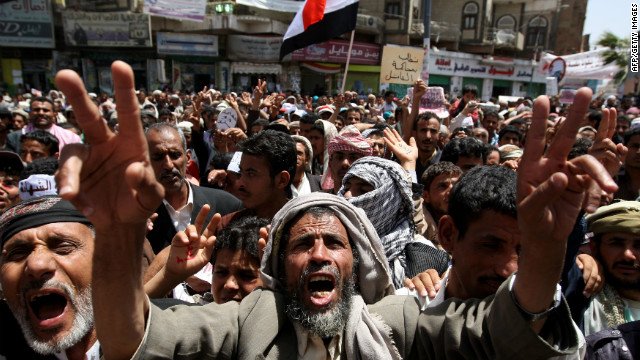 "Two years after the outbreak of what has come to be known as the Arab Spring, the bloom is off the rose," says Columbia University professor Sheri Berman:
Fledgling democracies in North Africa are struggling to move forward or even maintain control, government crackdowns in the Persian Gulf and elsewhere have kept liberalization at bay, and Syria is slipping ever deeper into a vicious civil war that threatens to ignite the Middle East. Instead of widespread elation about democracy finally coming to the region, one now hears pessimism about the many obstacles in the way, fear about what will happen next, and even open nostalgia for the old authoritarian order.
"The skepticism is as predictable as it is misguided," she writes in Foreign Affairs. "Every surge of democratization over the last century — after World War I, after World War II, during the so called third wave in recent decades — has been followed by an undertow, accompanied by widespread questioning of the viability and even desirability of democratic governance in the areas in question."
It's often said that democratic transition are processes, not events, and Berman draws on western Europe's protracted democratization to put current trends in the Arab world into comparative and historical perspective.
"The first error critics make is treating new democracies as blank slates, ignoring how much of their dynamics and fate are inherited rather than chosen," she notes:
Turmoil, violence, and corruption are taken as evidence of the inherent dysfunctionality of democracy itself, or of the immaturity or irrationality of a particular population, rather than as a sign of the previous dictatorship's pathologies. Because authoritarian regimes lack popular legitimacy, they often manipulate and deepen communal cleavages in order to divide potential opponents and generate support among favored groups. So when democratization occurs, the pent-up distrust and animosity often explode.
And because authoritarian regimes rule by command rather than consensus, they suppress dissent and block the creation of political and social institutions that allow for the regular, peaceful articulation and organization of popular demands. So citizens in new democracies often express their grievances in a volatile and disorganized way, through a dizzying array of parties, extremist rhetoric and behavior, and street protests and even battles.
"The best way to understand how stable, well-functioning democracies develop is to analyze the political trajectories that such countries have actually followed," Berman wrote in a recent issue of the Journal of Democracy.
The vicissitudes of the Arab awakening may even revive the long-running debate between preconditionists and universalists:
The former believe that democracy generally emerges from a particular set of conditions and experiences, while the latter claim that it can come about in all sorts of ways and settings. During the 1950s and 1960s, the debate was dominated by the preconditionists, who stressed the importance of various national prerequisites and deep structural factors such as levels of socioeconomic development, degrees of socioeconomic equality and group polarization, patterns of land ownership or agricultural production, or the prevalence of certain beliefs or cultural traits. Where certain configurations of these factors were present, successful democratization was likely; where they were absent, it was unlikely. ….
In contrast, universalists contended that democracy could emerge through diverse paths and flourish in diverse circumstances. They believed, as Dankwart Rustow put it in 1970, that scholars should "abandon the quest for 'functional requisites'" and be skeptical of the idea that a "minimal level of economic development" or particular types of societal structure are "necessary prerequisites for democracy." The "third wave" of global democratization that began in 1974 gave a strong push to the universalist view, as the shift from authoritarian to democratic rule was made in dozens of countries—including many that preconditionists would not have considered ripe for such a move. As a result, scholarship began to focus less on the structures supposedly associated with successful democracy and more on the process of democratic transitions.
"In addition to blaming new democratic regimes for the sins of their authoritarian predecessors, critics also set absurdly high benchmarks for success, ones that lack any historical perspective," Berman writes in Foreign Affairs:
They interpret post-transition violence, corruption, confusion, and incompetence as signs that particular countries (or even entire regions or religions) are not ready for democracy, as if normal democratic transitions lead smoothly and directly to stable liberal outcomes and countries that stumble along the way must have something wrong with them. In fact, stable liberal democracy usually emerges only at the end of long, often violent struggles, with many twists, turns, false starts, and detours.
These troubles, moreover, are not a bug but a feature — not signs of problems with democracy but evidence of the difficult, messy process of political development through which societies purge themselves of the vestiges of dictatorship and construct new and better democratic orders. Stable liberal democracy requires more than just a shift in political forms; it also involves eliminating the antidemocratic social, cultural, and economic legacies of the old regime. Such a process takes lots of time and effort, over multiple tries.
What does the experience of advanced democracies say about the Arab Spring? asks Berman, author of The Primacy of Politics: Social Democracy and the Making of Europe's Twentieth Century:
 That the problems so evident in Egypt and other transitioning countries today are entirely normal and predictable, that they are primarily the fault of the old authoritarian regimes rather than new democratic actors, and that the demise of authoritarianism and the experimentation with democratic rule will almost certainly be seen in retrospect as major steps forward in these countries' political development, even if things get worse before they eventually get better.
Berman is correct, says foreign policy analyst Max Boot.
"Anyone who reads her article….should gain a measure of patience and understanding for what it is currently happening in the Middle East," he writes in Commentary. "We cannot expect overnight miracles, but that does not mean that it is possible to cling to the rule of discredited strongmen—any more than Europe today could possibly return to the rule of absolute monarchs."