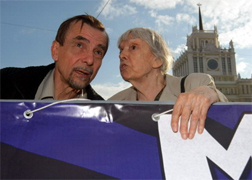 A fractious opposition, divided elite, acute demographic pressures, and a frustrated middle class could lead to a volatile 2013 in Russia, says a leading analyst.
"If 2012 was all about politics, 2013 will also be about economics," Brian Whitmore, an analyst with Radio Free Europe/Radio Liberty, writes for The Atlantic:
The Russian economy, the cliché goes, rests on two pillars — oil and gas. And both will come under increasing pressure as the year unfolds. World oil prices, currently hovering between $90 and $100 per barrel, are expected to be volatile for the foreseeable future. And any sharp drop could prove catastrophic for the Russian economy….
The flush days when petrodollars could power Russia's economy and lubricate Putin's political machine are coming to a close. How the political system responds to these challenges will be a key question in 2013.
Russian President Vladimir Putin "has spoken of the need for a new and uniquely Russian ideology, one that stands apart from, and explicitly rejects, the values of liberal democracy," note two prominent observers.
But his endorsement of a ban on adoptions by Americans is "a display of callousness unusual even by Putin's standards," albeit a move consistent with the regime's growing authoritarianism, write David J. Kramer and Arch Puddington, respectively president and vice president of research at Freedom House:
Since his formal return to Russia's highest office in May, he has launched a similar drive to destroy his political opposition as well as perceived adversaries within civil society, pushing through measures that have broadened the definition of treason, increased penalties for protesting against the government, recriminalized defamation and imposed a new round of restrictions on civil-society organizations.
Putin has blamed the United States for his and, by extension, Russia's problems. He has accused America of provoking anti-Putin demonstrations and expelled the U.S. aid mission… He has made it illegal for Russian nongovernmental organizations to receive U.S. funding if they are engaged in "political activities"; similarly, the Yakovlev law makes it illegal to serve as head of a Russian organization if one has dual ­Russian-American citizenship — a provision clearly targeting the 85-year-old head of the Moscow Helsinki Group, Lyudmila Alekseyeva (above, right).*
"Given all this, it is heartening to see many Russians, including the foreign and education ministers, oppose this latest abuse of power," Kramer and Puddington note. "At the same time, the absence of a serious response from the world's leading democracies is troubling."
Given such trends, the president's promise to restore rule of law is understandably dismissed as providing only a "veneer of legality to paper over Putin's personalized system of authoritarian rule," writes William Partlett is an associate-in-law at Columbia Law School.
But Putin's "lawfare state" is no innovation, he observes:
As the saying attributed to multiple Latin American strongmen goes, "For my friends, anything—for my enemies, the law." This lawfare system is seductively simple: in return for elite adherence to informal rules and personal loyalty, the state tolerates corrupt activities. Meanwhile, the regime closely documents this corruption, building dossiers on key members of the system. If these players violate the informal rules of the game, compromising information is passed to the formal legal system, which then goes after them.
The system amounts to a set of informal contracts in which "receipts from bribery and embezzlement would be granted in exchange for effective implementation of central directives and a share of the proceeds," according to Yale University's Keith Darden.
Putin's argument that the Kremlin is crafting a quintessentially Russian form of democracy is echoed by Russian Constitutional Court chairman, Valery Zorkin.
"Zorkin has argued that judges, in interpreting the constitution, should draw as much on Russia's unique history and heritage as from universal democratic values," Partlett notes, writing in The National Interest:
This uniquely Russian context, which he calls Russia's "fundamental reality," necessarily includes "authoritarian elements" that can ensure Russia's stable "transition" from "a lawless past to a new democracy." He explains that the constitution "forms the basic regulatory framework in a constantly changing world and must be considered in the context of this world. Its principles . . . must be interpreted and filled with a rich concrete social content relevant to each new historical stage of development." That is why, he adds, any discussion of the constitution's meaning and implementation "cannot be separated from politics."
"This authoritarian version of 'living constitutionalism' is broadly influential among many members of the Constitutional Court," says Partlett, a nonresident fellow at the Brookings Institution:
In fact, recent court opinions have upheld progovernment legislation in part based on the argument that Russia is at a stage in its democratic development when a strong president is required. … [But] Given his deep understanding of the late czarist conservative-liberal intellectual tradition, however, Zorkin must realize that Putin has done little to construct a law-based state as a vehicle for gradual change. In fact, Putin's lawfare state bears no resemblance to the kind of strong German-style rechtsstaat advocated by the conservative liberals.
"Leading Russian economists like Deputy Prime Minister Arkady Dvorkovich and former Finance Minister Aleksei Kudrin have stressed the need to diversify the economy away from its dangerous dependence on nonrenewable energy. … But despite all the rhetoric, there has been little real action," notes Whitmore:
Part of this is due to fierce resistance from powerful figures in the Russian elite with ties to the energy industry, like Rosneft CEO Igor Sechin, a longtime Putin crony. But the reasons for inaction are actually much more fundamental. Diversifying and modernizing Russia's economy would entail a degree of decentralization and the subsequent development of alternative centers of economic power. According to Edward Lucas this, in turn, would eventually lead to new centers of political power with more independence from the Kremlin than Putin appears willing to tolerate.
Economic dislocation could generate political re-alignments, observers suggest.
"Real fragmentation is taking place by age because Medvedev rejuvenated the system of administration," prominent Moscow-based sociologist Olga Kryshtanovskaya told the daily Nezavisimaya gazeta this summer. "The more conservative older part of the elite was irritated by this and moved toward Putin. And those who were younger moved toward Medvedev in hopes of a quick career if Medvedev remained for a second term."
The young guns who came in with Medvedev are also ideologically inclined toward greater pluralism. …..The generational gap in the elite is mirrored by a similar one in society as the cohort born after the fall of the Soviet Union — and which has only faint memories of the chaos of the 1990s — comes of age.
"This group of citizens sees itself as not only post-Soviet, but non-Soviet," says Masha Lipman of the Moscow Carnegie Center. "They don't consider themselves to be vassals of the state. They are more free thinking."
"This process is irreversible," she says. "And as Russia continues to urbanize and cities become centers for younger people, this process will only accelerate."
"With resources declining and no economic diversification program in sight, the authorities appear to have concluded that they need to reform the country's creaking social welfare system," writes RFE/RL's Whitmore. "But such a move is certain to be politically volatile, especially since Putin's main base of support is now the rural poor and the working classes."
Moreover, as moderate opposition activists come to understand that a colored revolution in Russia is unlikely, they are more likely to place their hopes in evolutionary change. And in the event that the Putin regime begins to look dangerously shaky, overtures from inside the halls of power to the opposition will become more likely.
"We are going to see more people toying with defection to the opposition, people opening up back channels," says Mark Galeotti, the author of the blog "In Moscow's Shadows" and a professor at New York University. "We're going to see the economic elite trying to reach out [to the opposition] and this is going to be very dangerous for the state."
"I don't think we are at the end of the Putin era, but we are at the beginning of the end," says veteran Russia analyst Edward Lucas, author of the recently published book, Deception.
The Moscow Helsinki Group is supported by the National Endowment for Democracy, the Washington-based democracy assistance group. Lyudmila Alekseyeva was a recipient of the NED's 2004 Democracy Award.