Anti-democratic regimes of the past employed a variety of nefarious means to silence and cow their opponents, writes Joanna Rohozinska. Now midnight visits by shadowy men and Black Marias have given way to less dramatic, but certainly no less effective means of ensuring social control. Contemporary would-be dictators have replaced Big Brother with the Taxman.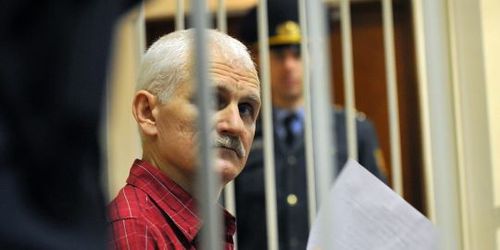 The trend towards pursuing and punishing economic cases is visible throughout the post-Soviet space. There are several high profile ones that have drawn international attention and condemnation, including the cases of Mikhail Khodorkovsky in Russia and Ales Bialatski (right) in Belarus. Khodorkovsky was first arrested in October 2003 on charges of tax evasion, fraud and embezzlement. Initially sentenced to eight years in 2005, he was re-tried in 2009, together with his business partner Platon Lebedev, on further charges of embezzlement and money laundering and sentenced to 14 years, to run concurrently with the earlier sentence. Bialatski, head of the Belarusian Human Rights Center Viasna (Spring), and vice-president of the Paris-based International Human Rights Federation (FIDH), was arrested by the Belarusian authorities on tax evasion charges. He was sentenced in November 2011 to 4 ½ years' imprisonment for 'concealment of income on a large scale,' based on financial documents provided by prosecutors in Lithuania and Poland. He has been declared a prisoner of conscience by Amnesty International, while Human Rights Watch said that his "arrest is a clear case of retaliation against him and Viasna for their human rights work….the latest in a long series of efforts by the government to crush Belarus's civil society."
In Ukraine, which heads to the polls in parliamentary elections on 28 October, raids by tax police on TVi, the sole remaining independent national TV broadcaster, in July caused enough of an international outcry that a moratorium on tax inspections of media outlets was announced for the entire election period. However, in the wake of the raid prosecutors opened a criminal investigation against Mykola Knyazhitsky, the head of the station, on charges of "tax evasion." In September, the station had its foreign currency accounts frozen and lost an appeal against paying a 9 million Hryvna (around $1 million) tax debt. While the moratorium leaves media outlets theoretically free from undue attention until November, this does not prevent tax authorities from carrying random inspections of advertisers. 
Aside from cutting off potential sources of financial support to opposition forces, SMEs have become increasingly vocal proponents of reform and active in social protests in several countries of the former Soviet Union. Strikes of small entrepreneurs in Belarus have flared periodically, the largest gathering over 30,000 people and shutting down outdoor markets in several cities. In 2010 in Ukraine small business owners rallied in Kyiv protesting the introduction of a new tax code, while in Russia, small business made a strong showing at protests following the presidential elections. While motivating factors include some pro-democratic sentiments, disgust with endemic corruption and selective justice likely figure more prominently. Put simply – lack of rule of law is bad for business. In Ukraine, SME's employ some 6 million people, out of a population of 46 million. Unfortunately, a common trait among post-Soviet states is the lack of interest among ruling circles in supporting the development of an independent middle class. The state's unwillingness to carry out reforms has even become an impediment.
SMEs and democratic forces have common cause in pushing for pro-democratic reforms and have begun cooperating in some instances. But these relationships are as fragile as the livelihoods of small independent businessmen who ultimately stand to lose everything if they are perceived as falling afoul of the authorities. While death and taxes are unavoidable, in the post-Soviet space, the tax inspector does double duty.
Joanna Rohozinska is a Senior Program Officer for Europe and Eurasia at the National Endowment for Democracy.